31 Untapped Sources of Free Dofollow High Authority Backlinks 2018
This is my favorite and secret list of  high authority backlinks . I used it all time and for all my website . Getting a dofollow link from these source is very easy .They don't need a lot of work .On the other side they have  high DA, PA  and page rank .
Video Tutorial :-

1.Microsoft : You can get a dofollow link from Microsoft which has Domain Authority 100 and Page rank 10 . You just need to sign up for an account in anwer.micorsoft.com and fill out your profile . You can get a backlinks with your desired anchor text like below :
Note: You need a micorsoft email to sign up here.
Note : Make sure you know how to index backlinks In Google else these backlinks will not improve your search engine ranking .
2. Trello :  It is a  card-based task management tool.  Trello serves a different purpose and is very popular. It has PR 8  and DA 88 . You can get as many dofollow link from one account .All you need to sign up for account , edit your profile and in bio enter as much url as you want starting with http:// .It will automatically convert in backlinks like below :
3.Google Plus : All you need  to make a Google Plus page for your site  ,Enter your website name and verify it . You will get a dofollow backlinks with PR 9 and DA100 .
4. High Authority  Backlinks from  PR8 domain !
Ya ,This is my 4th  source of getting high quality backlinks .You can get a PR8 Dofollow Backlinks from  storify. Most important this is totally free and you need to spend only 1 minute of your life.
To get a PR8 High Quality Backlinks just follow the steps :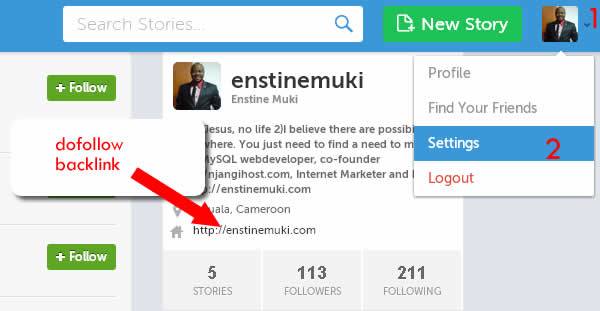 1.Go to http://storify.com and create a free account[If any ad come ,just click on skip ad.]
2. Click 1 and then 2 (in image above)
3. The following screen comes up:
4. In Profile enter your website name .
And That's done! You've just gotten a high quality backlinks from PR8 domain.
5. YouTube:
YouTube is the largest video sharing site by Google. YouTube had millions of user. YouTube also provides quality backlinks to it's members. You can also add your link in the about section but these all are no-follow backlinks. So, here is the proper way to get do-follow backlinks from it.
How to get do-follow backlinks from YouTube:
Login to YouTube using your Google account.

Go to Advanced Channel Settings > Associated Website.

Add your site url in Associated Website.
Note: You have to verify ownership of your blog using your Google Webmasters account to add your site in associated tab. This is the best place to get high quality backlinks for your website.
6. Reddit : Reddit is another place where you can dofollow  high authority backlinks  .It has PR 8 and DA 90
At start Reddit give only nofollow backlinks .but if you get some karma  than all the backlinks from reddit will be dollow like above.
7. Get DA 60 PR 1 Dofollow Backlinks from Copyrighted :
Simple go to copyrighted.com ,register a free account .
Click on "copyright my work'  , enter web url and click save .
You will get a dofollow backlinks from this site . You can add as many url and get as much backlinks you want .All backlinks will be dofollow .
8. AllTop.com –
Alltop is a blog aggretor site with PR6,DA 78 and PA 82 . If you have high quality blog  with regular posting than you can get  high quality backlinks from them.
To get a  free high authority  backlinks form alltop just follow the steps
Sign up with your details.
3. Again go to http://alltop.com/submission/ and fill out every details of your site.
4.Hit submit and its done.
Now wait for their reply .If  everything goes correct than they will submit your blog at their site.
Note: They accept only blog who are high quality and older more than 3 months. If you are running a business site ,review blog or gambling blog they will not accept it So you should waste your time there .
9. Imfaceplate : It has DA 35 ,PR 5  and you can get as many dofollow links from one account . All you need to sign up for a free account , write a simple 100+ word article and enter a link pointing to your blog post .
You can get a dofollow backlink with your desired anchor text .However I suggest to use  branded  or naked url  as anchor text .
10. SplashThat :Splashthat is an event sharing website where you  can get a High authority backlinks from DA 63 and PR 5 . Simply Sign up for a free account , write about any event (Just create a fake event ) and link back to your post . Very simple right . Here is how it will be look like :
11. Dropshots : This is a photo sharing sites with DA 50  ,PR 5  and you can get as many high authority backlinks  as you want from this site .All you need to sign up for account and share images with linking back to your site . You need to add comment in your image to getting a backlinks form it . It is a high Authority dofollow backinks source .
12. DEVIANARTS  : It has DA 92 and PR 8 .And you need to submit only an art work to get a free high authority dofollow backlinks . Simply make a new account , submit an image   . In description field just add URL of your article .
13. CheaperSeeker : It is a coupon website where you can get coupon for every software . To getting a dofollow backlinks ,you just need to create a free account and in your bio enter your website .It is PR 2 and DA 36 website .
14. Wikitechguru : You can submit here anything and in return you will get a dofollow DA 37 backlinks . Simple go to homepage and enter your article or link . The good news is that you need not sign up for getting a high quality backlinks .
15. List.ly : It is a website where you can create a list of your favorite article . Simply sign up and create a list .It has a DA 68 .
16. Newsvine : It is news sharing website but you can share anything here . In return you will get DA 91 dofollow backlinks for free .Simply join and share link .
Other  Secret Source Of High Authority dofollow Backlinks 
17. http://www.howhacktricks.com DA 82
18. http://www.paisekamaye.in DA 78 Indian Niche
19  http://www.hastmethun.in DA 64
20  http://www.victoriaadvocate.com DA 62
21. http://www.realitysandwich.com/ DA 60
22. http://www.benzinga.com DA 78 Business Profile Site
23  http://www.customerthink.com DA 67 Business Profile Site
24. http://www.caringbridge.org DA 86 RSS  Sitee like alltop
25. http://www.topofblogs.com DA 69 Blog submit site
26. http://www.schoolrack.com Education site DA 60
27 http://www.ideafit.com Health Niche DA 71
28. http://www.realtreasure.realtytimes.com DA 79 Real State Niche
29. http://www.renewableenergyworld.com DA 82 Technical Niche
30. http://www.blogher.com DA 84 Fashion Niche
31. http://www.houzz.com DA 91
Simply Make an account at each site and submit your link in your bio or profile .I guarantee that these 31 high authority dofollow backlinks will boost your search engine ranking .
Final Words : 
SEO is neither hard nor dead .You need to keep patience and work regular to rank and bank .High Authority  backlinks is the most important links you can get for your blog . Make a link building campaign and start building linking and so0nner or later you will see a huge improvement in your ranking .